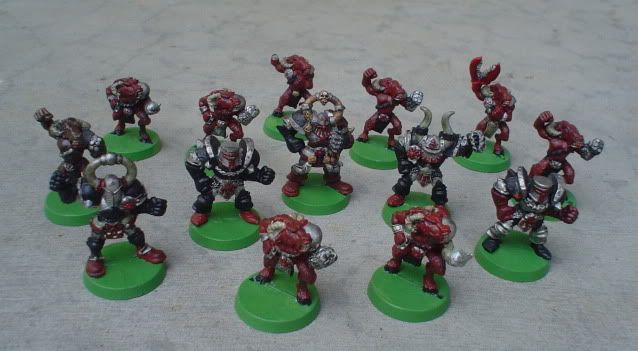 Hailing from the Northern Wastes...Hacker-Pschorr
Yes, more Blood Bowl shenanigans! I'm curious how long this Blood Bowl momentum
on the tabletop
will last once the video game comes out? This Chaos team hasn't actually seen some action on the blog before, both
here
and
here
. It's funny, looking back at those two posts, almsot two years ago, it seemed we were on the verge of doing some long-term, organized play, but it never really materialized, which is too bad.
I like the Chaos team quite a bit. The Chaos Warriors might be a tad slow (but not terribly so), but they hit hard and have good access to skills...and mutations. I also love the Beastmen, they play like human lineman which is great, but they also come with 'horns' and get access to mutations as well. The Beastmen are the staple of the team, with the Chaos Warriors sealing the deal. I only have fourteen men on the roster, leaving me two slots for big guys. I can go ahead and use the Troll from my Orc team, and I'd like to add a Minotaur too. If I had my druthers I'd use this
Orboros Gnarlhorn
as my minotaur!
Full complement of Chaos Warriors, including Lord Borak
The Beastmen with lolling tongues...and mutations
In the back you'll see I've converted one Beastman with the giant lobster claw. There's another one with a stump awaiting his new mutant graft, but I didn't feel like drilling and pinning prior to taking pics, heh. I've got a "big hand" somewhere around here, I think it came off the Skaven mutant player, I just need to find it. I know they have also made 'official' Beastmen players with mutations already on the fig, but I don't have any of those.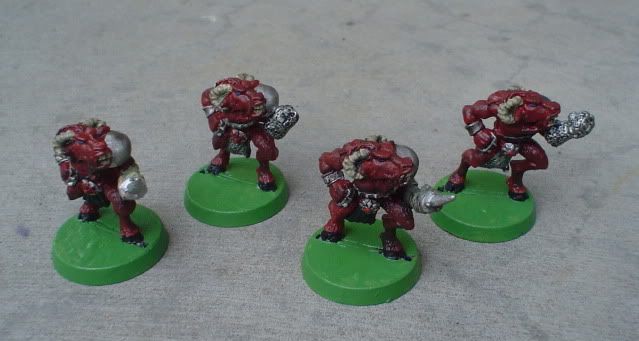 The "I'll get you!" fist waving Beastmen