Well
Fall-In!
is now a memory, a good one, but a memory nonetheless. The bags have been unpacked, laundry's been cleaned, new miniatures have been set aside, and half a dozen new plans, schemes, and inspired ideas are floatin' around my melon. These are the last of the leftover pics, there's still a ton on my phone, but more of those later.
Above is me and comrade
Dave Taylor
, whose left pinky has as much miniature building and painting talent as I do in my whole body! We worked together on the successful
Storm Wardens
project a while back and it was great to meet him in person.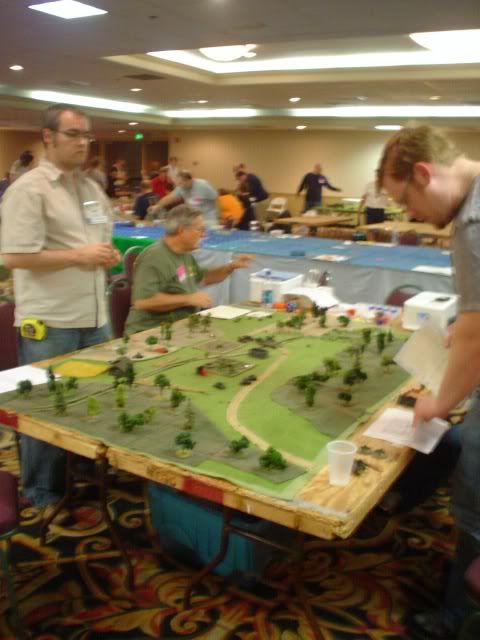 Here my stalwart companion
Duck Sauce
contemplates his next move in a game of
Fireball Forward
, a World War II tabletop game in development.
These last couple of shots were of an incredibly cool table that consisted of nothing but homemade "whimsical" miniatures. This was a huge table, with well over a hundred of these guys built and based on some pretty cool movement trays to boot. I didn't get the chance to play on it, but it's just an example of one of those things that you just don't get to see every day.
So farewell to Fall-In!, it was a blast. I wish I didn't come down with whatever it was while I was there, but I trudged through as best as I could. It
looks like the convention scene in 2011
for me will be nil, but look for me again in '12!