After a
bunch of World War II tanks
, a saucer-full of aliens, and who knows what else, I thought I'd stick to the trend of keeping everyone guessing on the genre of my next project;
Prehistorics
. I picked up
most of these at Fall-In!
and a couple more additions made their way into the herd post-con. I spent a good part of the morning with my coffee (black), some gesso (white), toothpicks (to finish off the metal washers I used for bases), glue (for pinning down spears), and my craft knife (for trimming flash).

The
Smilodon
and wolf pack are from
Reaper
. This Smilodon is a great sculpt, saber-toothed tigers were built more like agile bears and less like actual tigers and this fig captures that very well. This isn't the first time I've
owned this figure either
, it's just a cool sculpt. The wolves are
wolves
, they get the job done. I'll use these probably just as a feral pack, and the couple tame looking ones I'll use as semi-domestics with the Neandertals. Alternatively these could be painted up, tails clipped, to act as
Cave Hyenas
, which is something I've considered, especially if I focus on Eurasia. These may just end up being
Gray Wolves
however.
It doesn't snow a whole lot in
these parts
, even though the winters
are
cold enough, but the weekend I photographed these there actually was snow! I guess taking pics of all of these
Ice Age period critters
in the snow is very apropos! This isn't the first time the
Valhallan Snow Gods of Winter
have
converged on a miniatures project either
!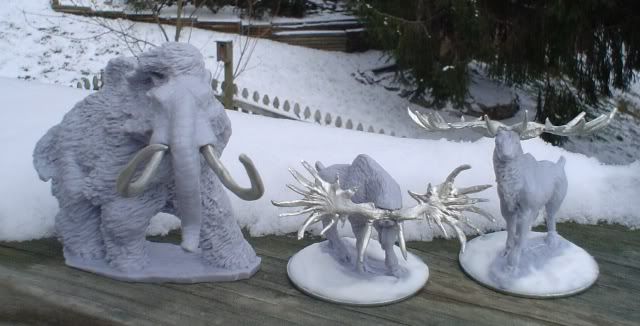 These are all from
Acheson Creations
, and this
Woolly Mammoth
is just awesome, and huge! The trick is I'd like to put him on a base, but I have no idea what to use. He's too big for washers or whatever, and not quite big enough for a CD, so I'll keep thinking of something. He's the largest mammoth they offer, but they do have others.
Another pair of great figs from Acheson, the
Irish Elk
put the "mega" in
megafauna
! These figures are huge as well, and rightly so since they are the largest deer that have ever lived at any time on planet Earth. A single elk has enough meat to feed a good dozen humans, but those twelve foot wide antlers could easily spell a hunter's doom.
Speaking of hunters, here's a tribe of
Neandertals
. I bought both
'hunter' packs
offered by Acheson, and overall I'm very happy with them. There's a couple of figs in the packs I'm not crazy about, but there's a couple in there that are way cooler than average too, so it all balances out. The other two "caveman" packs they offer have more mundane 'camp peeps' that include females, children, firewood collectors, and the like. Not bad, but a kneeling figure scraping/cleaning an animal skin with a levallois tool doesn't scream "caveman battles". Shown above is one of those docile Reaper wolves I mentioned that'll be their proto-dog,
man's best friend going on 50,000 years now
.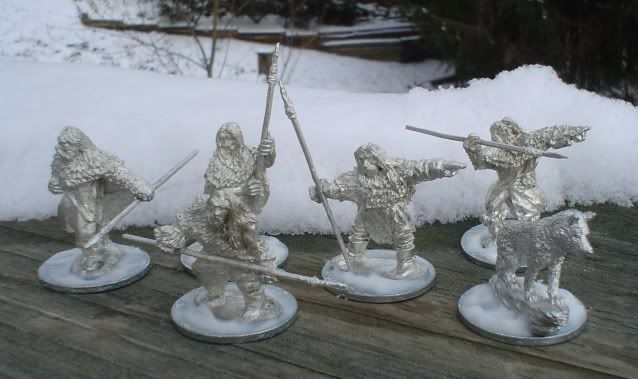 Our last batch of hunters, as before all are armed with flint spears. There's enough variety from both packs I picked up to make two distinct looking tribes if I wanted to, or two competing bands. These bands could be competing directly against one another, or possibly both bands are competing for the same food source. I don't know really, all I know is now that they're based I need to get cracking and get them painted them up! Enjoy!