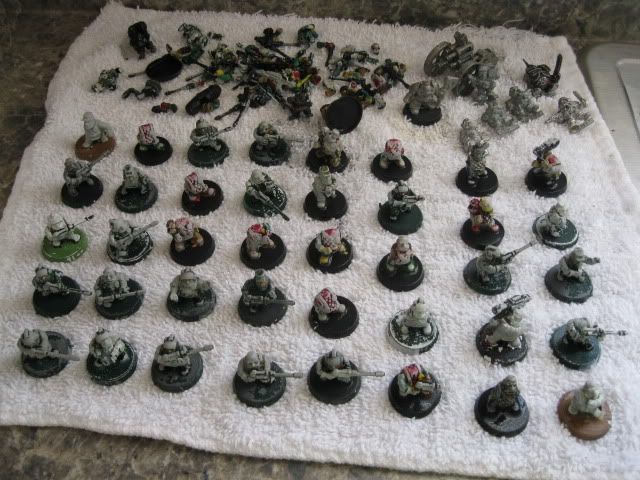 Squats continue to pop up on the HUD. This last lot will pay off in the end, but I foresee a lot of work reconditioning them to their former glory. I picked up a sizeable batch of the stout folk, actually multiple small batches, and have set to the scrubbing.
Some of them are simply falling apart as I strip them. This is in large part due to the fact that it appears they were painted first, then glued together second. There's a second batch that appears to have been painted using enamel paints, and the third batch...well the third batch is holding up rather well through it all. All in all I'm hoping to salvage a good thirty to forty of the original multi-part plastic "Imperial Guard" Squats.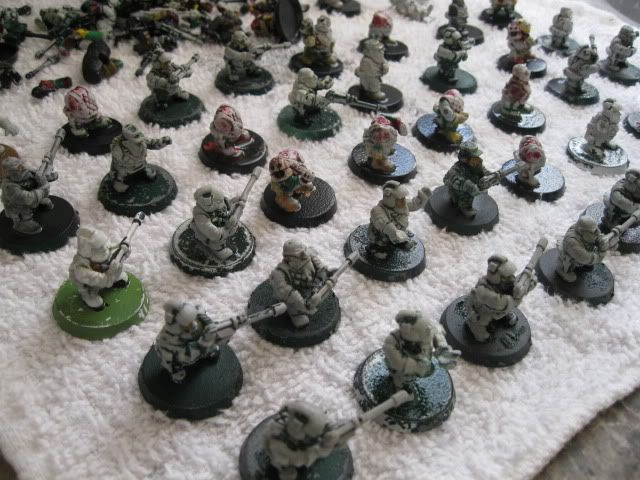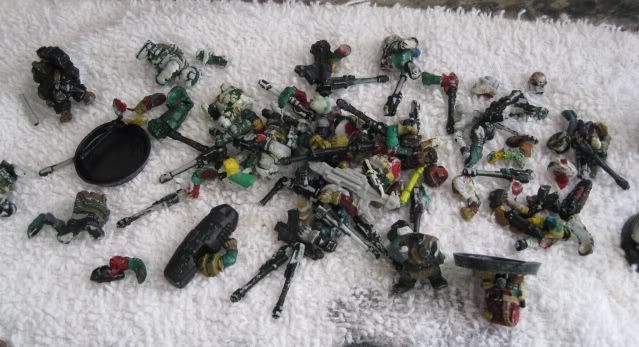 The bone pile o' pieces...
Here's my metal Squats who have come in intermixed and mingled. Of all the Rogue Trader stuff I've ever owned, I only had two Squats among them. There was a boxed set that included a Space Marine Landspeeder, an Imperial Guard Tarantula gun platform, and a Squat Mole Mortar. Sadly, those two Mole Mortar crew members are gone, but I feel like I've somewhat replaced their numbers. They're all gems really, but the Squat Adeptus Mechanicus in Power Armor is one of my favorites of the bunch. I've also got a Squat Medic (with a comically short chainsword, or chainknife. A Squat Servitor (which I didn't know existed), a heavy gunner, a loader model, and a cool looking character model with a Bolter strapped to his back. Rounding out all the stunty-ness is a Squat Thudd Gun.
I would be remiss if I didn't post my Squat Biker either! I will perfectly honest, this one was destined for the Simple Green, but I couldn't bring myself to it. My buddy
Andy, of Little Lead Heroes,
did a great job painting this guy up, and that's all there is to it. How can you not like this model either, he's a Squat Biker...it doesn't get any cooler than that!
So, the Squats continue to amass in the depths of the Mik's Minis project files. If you have a lone Squat (or more) lying around and want to donate them to the cause, please do so! Beard and beer karma will reward you!