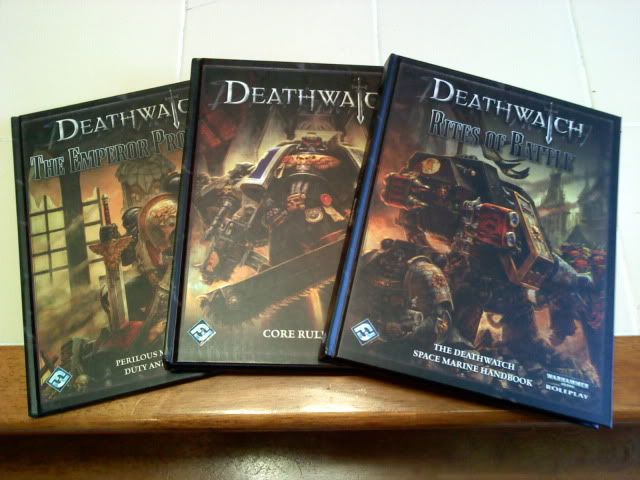 I may not be painting anything right now, but that doesn't mean I've been
totally
idle. I got this trio of
Deathwatch books
in the mail a few weeks ago and it's taken me some time to sift through them given everything else. I tell you though, the production value of these is outstanding, as I've come to expect from Fantasy Flight. It's a solid RPG system and adds so much fluff and depth to the massive 40k mythos it's not even funny. I've got to credit
The Lead Head
for giving me inspiration to get off my can and post some Deathwatch.
We've played a lot of
Dark Heresy
, and briefly toyed around with
Rogue Trader
but it's Deathwatch than I'm most excited about. I mean, you get to play a Space Marine, end of story. These aren't the Space Marines of the tabletop game that get lost in the points shuffle, these are the true superhuman giants and gods among mere mortal men. The way Space Marines should be!
Remember my
Sons of Minos project
? It's still around, and now thanks to the rules in the Rites of Battle book, I've been able to whip up an 'official' chapter writeup for these guys thanks to very detailed step-by-steps rules. Look for those coming up.