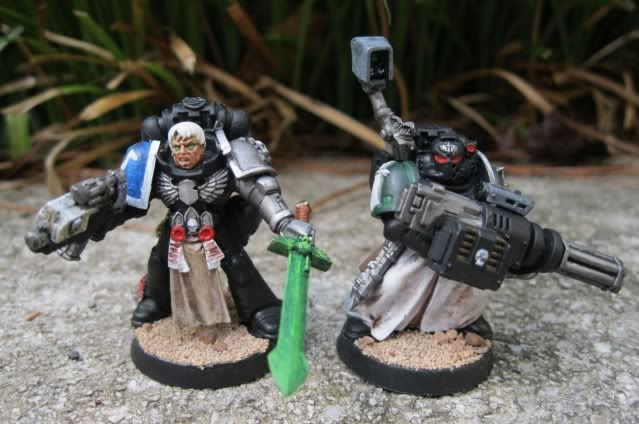 Today we have two more Deathwatch characters. This time around is an Ultramarines Librarian and a Dark Angels Devastator marine. The latter is armed with an ambiguous "heavy weapon" and the former has a psychically enhanced force weapon (sword).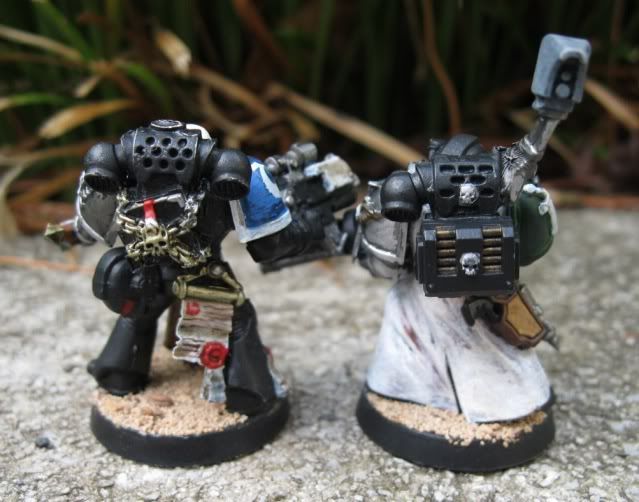 I used a Black Templars backpack for the librarian because it had a thick tome chained to it, I figured it fir his theme. The Dark Angel was a whole bunch of trimming and ad-hoc'ing with various bits and pieces. Hey, I used "ad hoc" as a verb!
I have no idea where I got the Ultramarine's bolter from, but I love it. It's got an extra large casing, and a scope with 'doohickey' wires. I used an Ultramarine decal on the librarian and an embossed icon for the Dark Angel. Funny thing though, the librarian was supposed to be a Blood Angle marine! Oh well...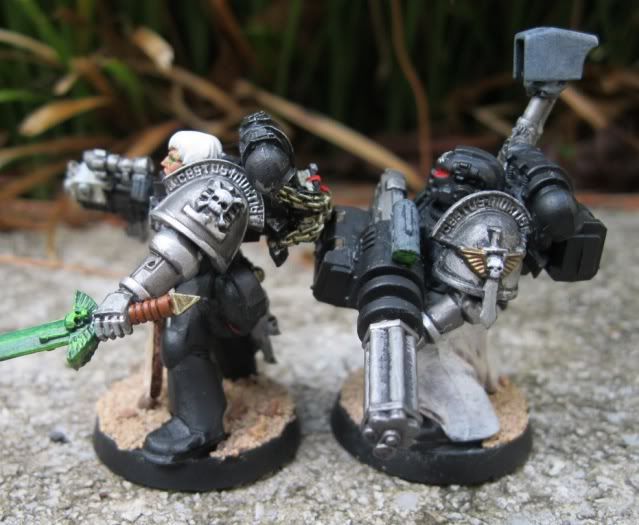 Regular and Dark Angel-specific Deathwatch ceremonial pads
The librarian was killing me. I wanted to give him glowing eyes to represent "raw psyker power" and I wanted his honkin' big force sword to glow in a similar manner to match. I used a mix of wet-blending and dry-brushing on the sword and I'm fairly happy with how it turned out, it does look a bit better in person. The eyes, I dunno, I'm not happy with them but I kept redoing them so much I got kind of over it. Did I mention I did the wrong chapter?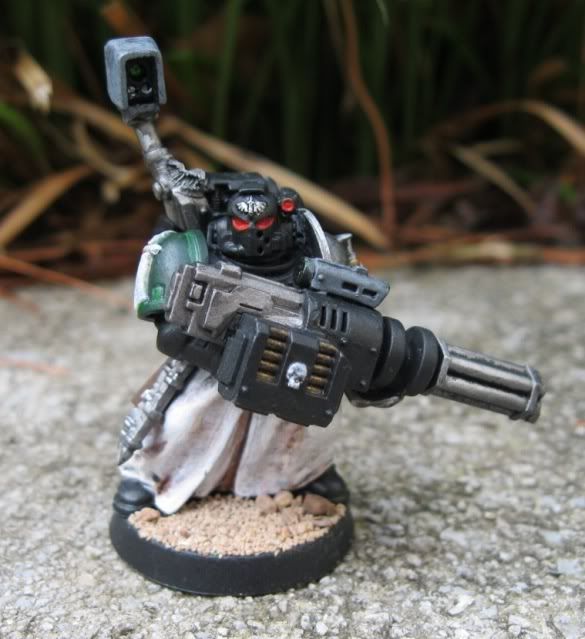 Hmm, I am torn on this one. I went with a new style and I wanted to basically make him look un-40k, and un-space marine. I think I accomplished that, however now that he's "un" those things, I don't know if I like it or not. The player this figure is for isn't a tabletop gamer, nor is he all that knowledgeable in the 40k universe, so it doesn't matter, it's a "cool figure with a big gun" in the end.