Necessity being the mother of invention I had to whip up a servo-arm for my old-school techmarine. Also, my own Barter Bucket failed me and the part I thought would've been here by now never made it. As I type this up our Deathwatch game is tomorrow night, and this is the last trooper of the bunch I need to crank out.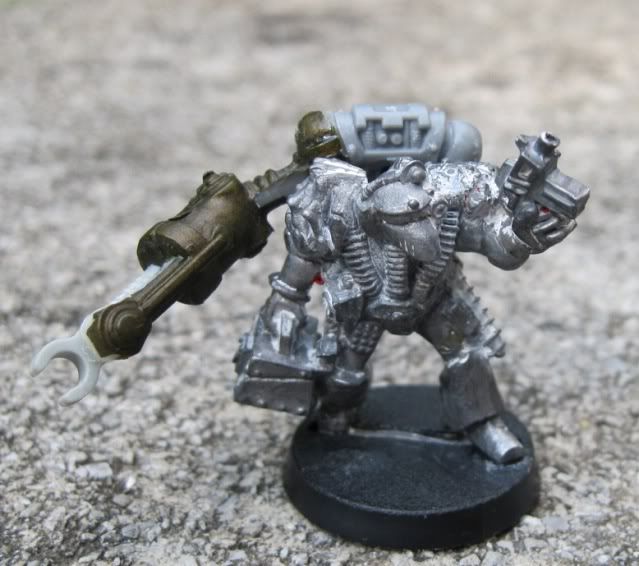 After reading a
post of Mike's
a while back at
Constantly Risking Obscurity
, I saw there were a couple of kit-bashed servo-armed figs. I had asked and it seemed like old
Mage Knight
bits were used in part to make the packs.
I have a shoebox full of Mage Knight figs, but only a few of the figures that make up the 'steam punk' faction. I did have an robot-mecha thing with some cool arms that might work, but first I had to hack away the giant buzz saw blade.
As you can see I also clipped and used a LEGO piece for the pincer hand itself. In the end I'm pretty happy with how it turned out, the arm looks nimble and robust at the same time, and I absolutely love the way the ball-joint seems to mesh so naturally into the back pack. Speaking of the backpack, it was just a plain pack and I added an extra "techmarine-esque" doo-hickey on the back of it. Next up is to paint him, in one night apparently. He's technically from the Black Templars chapter, but there's really no place convenient I can show that. All right, it's time to get cracking, err, in about ten hours.