With about a dozen games under my belt with the
Gorgons
I thought I would switch things up and try a new team. I'm not hurting for choices in the
extra teams department
and had some decision making to do. I settled on a
Chaos Pact team
for many reasons.
First up is that it is, in essence, a human team with its Marauders. I have a lot of experience playing a human team from way back when so this was a good foundation. Next up is that you can opt to field a Skaven, a Goblin, and a Dark Elf, so my desire to play any of those three teams (more if ccount all the different Elven teams) is satiated. Finally you get choices in your big guys, you're not just stuck with one. These can be Ogres, Trolls, or Minotaurs, or if you've got a huge treasury...a combination of the three.
Admittedly, Brian's
nicely painted Chaos Pact team
over at
Repple Depple
was the final straw that persuaded me to go in this direction.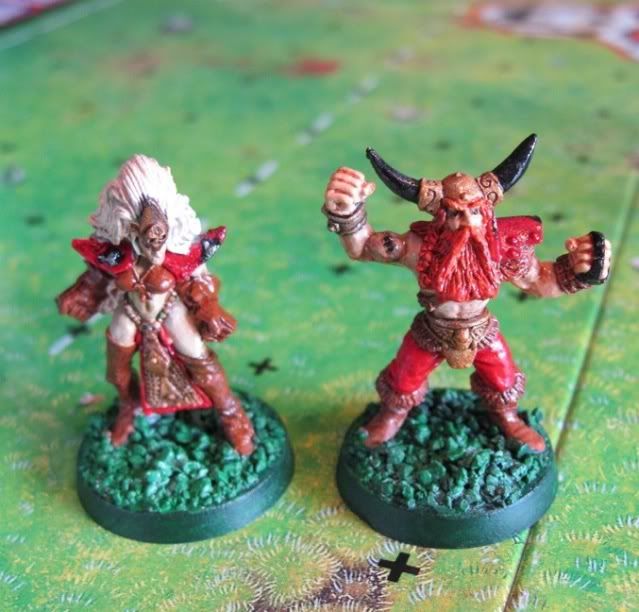 I am using my leftover Norse team as the basis for the Chaos Pact, and the horn-helmed Norse make for perfect Marauders. The team photo at the top of the post shows most of the original paint jobs which were there when I got the team. I've only painted two members so far, the two directly above, but you can see where I'm going with the color scheme. Also, you can see I am using a female model for my team's Dark Elf.
The only good news is that this team is being made up of models I already own, or ones I am trading for. In the case of the old school Troll above, ones I'm receiving from friends for free (thanks again
John
). I have too many teams in storage to justify spending another dime on a new team. You can also see some of the primed figs I whipped up for the team and haven't gotten around to painting yet. In the case of my Ogre, I was too late; he died by failing a 'go for it' roll causing him to trip and break his neck. That's right, no apothecary!
Anyway, I'll still paint him up along with the others. Since there are no 'catchers' on the Chaos Pact team I plan to use the 'bear claw' gloved Norsemen figures as those players who receive the 'claw' mutation upgrade, seems a pretty natural choice. There's actually no positonal players whatsoever, you kind of create them as you go along with the wide variety of skills they are eligible for. The jar full of figs and fluids is the Simple Green soak, waiting for the next batch to prepare for painting.