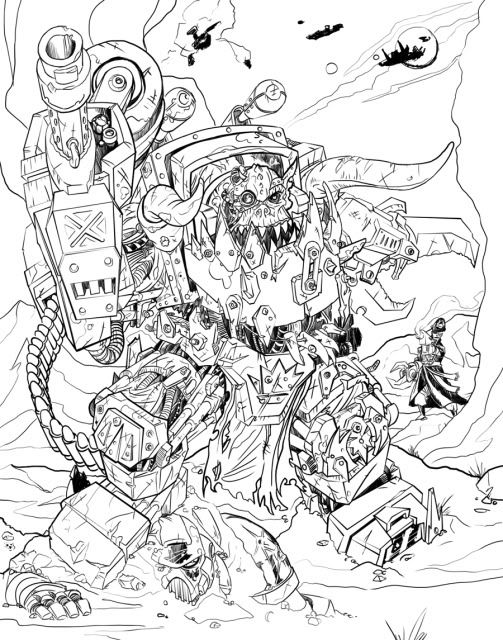 We all share many of the same blogging circles. Chances are you've already seen the massive
Heroes of Armageddon project
that's been undertaken this year in the same vein as the
Storm Wardens project
last year.
Well if you don't know, it's
four times
the undertaking this time around and the armies are each and every one drop dead gorgeous, making anyone proud to own one of them. Well you
can
own one of them, and you can help a great cause while you're at it,
Doctors Without Borders
.
Each of the army pics below is a link to that army's specific page on
the official Heroes of Armageddon blog
. Click the photo to get individual shots and closeups of these great models completed by some of the more talented names floating around these parts.
Ghazgkhull Thraka's Goff Horde
Gutsmek's Speed Freaks
Lord Dante's Blood Angels
Commissar Yarrick's Steel Legion
This is the artwork y'all should be familiar with already, my treat for you is the rough draft at the top of the page.
Monster Master
artist Chris "Biscuit" Miller whipped this up as he did for the Storm Wardens project and multiple others. He's available for commissions, his prices are reasonable and I've never seen him turn something down.
He's not going anywhere anytime soon, however these armies are...and
very
soon. As the title says, you've got about four days, that's it. Get over
to the main page
and get in on all the action while you still can. This is one you do
not
want to miss.