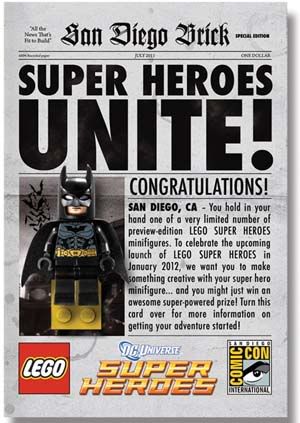 Start saving your pennies now, news as of today is that
LEGO
has locked in a stranglehold of a licensing deal for DC Comics. Not just a few
Batman sets
that most of us didn't buy when we should have, but the full ride; Superman, Wonder Woman, the Joker, Bane, Harley Quinn, Lex Luthor to name just a few. There's thirteen characters slated in the initial January lineup.
Sure,
LEGO X-Men
would be awesome but something tells me we're going to get more mileage for our brick, err buck, out of a
mini-fig lineup from DC
.
This is pretty big news and is spreading around the
brick blogs around the net
. It originally broke online at
Variety
, for full details check out
their writeup
.
EDIT: Thanks to aptly named minifigure below (no really, thanks!) there's even better news. Looks like we can have our cake and eat it too since Lego's also getting a
Marvel Comics license
as well. It's toned down comparatively but Lego X-Men, Avengers, etc. are now a reality. Seriously, start saving your money today.
Here's a couple of solid links that give even more information:
The Brick Life's article about it

The official Lego website about it.