Screenshots taken directly from my television screen...
I can't speak of the other platforms, but for XBox360'ers out there the demo version of the upcoming
Space Marine
is out. You can play to save-points, maybe missions but they seemed a little short. One mission is played as the Tactical Marine, the other as an Assault Marine. The quick and dirty breakdown is this; if you paint 40k and you play video games, you'll end up getting this game at one point or another.
Solid shooters are plentiful, let me repeat, PLENTIFUL on the 360 platform. In this respect Space Marine isn't going to give you anything special in that department, you've got better options out there. If you're not a tabletop 40k gamer, this title will still give you a cool storyline that is thought-out and very sci-fi in nature. The setting is rich and detailed with plenty of the grit and grime you would expect.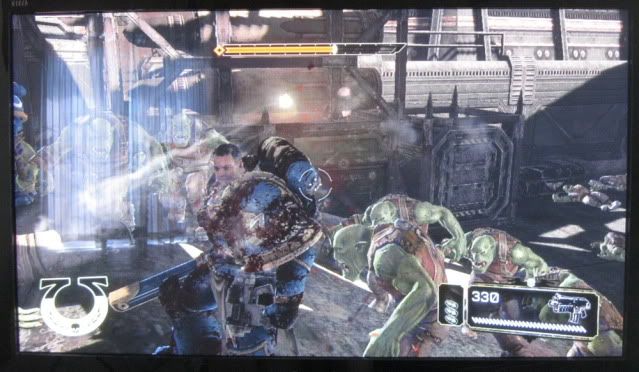 Where
Space Marine
shines is where you would expect it to...as a 40k action game. There's something very cool about playing a Space Marine and seeing them do all the things Space Marines do, but animated; running, chopping foes up with chainswords, speaking with serious accents, and the like.
In the first mission you and your battle-brothers find some fallen soldiers, Cadian soldiers! Painted up, err, digitized up to look just like...Cadians, cool! A servo-skull is scanning them and then comes up to the marines, verifies them, and displays a holo-message from an Inquisitor who is holed up and needs assistance. After that you forget the decent but not amazing gameplay, or the not-so-crisp graphics, you are
in
the 40k universe, bolter blazing.