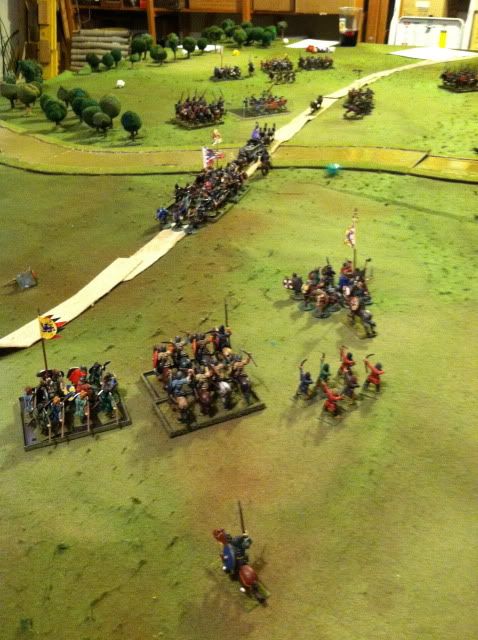 We played a "big dang" Viking game last week that was a lot of fun. We were using a highly modified set of the
Might of Arms rules
(so modified it's actually a completely re-written and unpublished set to be called Clans and Companies). Bob was running and hosting the game and it's a test drive for one of the many games he'll be running at this year's
Fall-In
. So if you like what you see here, you can get in on the action there.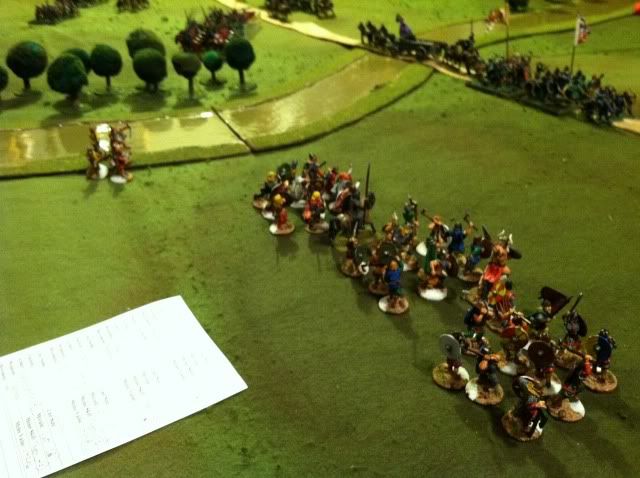 There are games I don't mind just showing up at and rolling dice, but there are other times where I really want to contribute. The latter was true for this game and my
39-strong Viking Warband
made the trip and joined the fray.
This was a great scenario and the table was quite the spectacle. There were no fewer than five factions at play, each with their own objectives and secret agendas. Sure, you could ally with another player if you wanted, but would it last? The scenario, as the title states, dealt with the impending wedding in the region and those faction who wanted to stop it (or support it), or just plain wandered into the middle of all of this and haven't decided whose lot they'll throw in with. We played on a somewhat sparsely terrained twelve foot table with over a hundred figs running around and a river running through the center.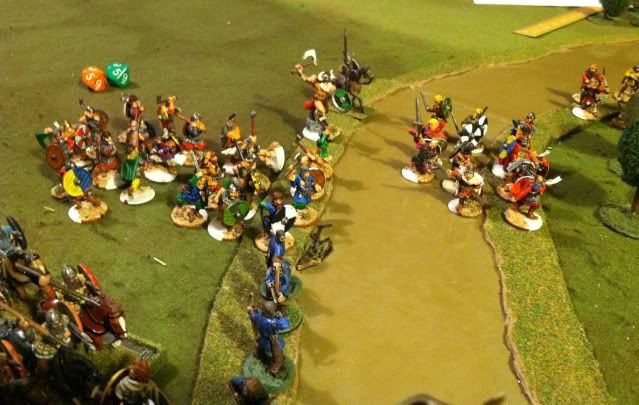 Fjord this!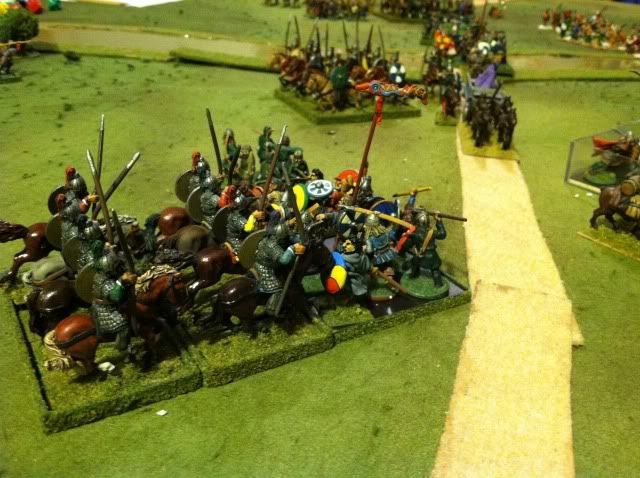 There was a good mix of troops; mounted, foot, heroes, skirmishers...
The action came to a boiling point in the center of the table
My warband's primary objective was basically to steal the bride. If the wedding goes through, my clan's power in the region is going to be greatly diminished, and we can't have that. Maybe a little friendly princess-napping and subsequent ransoming will let the powers at be know that we aren't to be trifled with.
Near the end of the game we had a big, beautifully chaotic mess on our hands. The bride's wagon train moved fast across the table so all the sides were scrambling to keep up and defend, or snatch and grab. Other factions present could care less about the politics of the wedding and just wanted to nab some livestock or other treasure. Unfortunately for my warband, the bride was able to be whisked away to safety by her future husband's retinue.
Here are the player handouts with the factions on them. I think we got some solid playstesting of the scenario down and any tweaks that were needed fixed whatever small gaps that might have cropped up during play. Besides that, it was just plain fun, which is what it's all about. Like I said, Bob plans on running this same game at Fall-In, it might be in the
events listing
somewhere. Tell him Mik sent you since I can't attend this year!