A large chunk of some of my recent acquisitions have been 15mm, of said 15mm are these half dozen Uhul, Owlbear-kin offered over at
15mm.co.uk
as part of their fantasy SHM range. Their
SHM range
gives aspiring sculptors and designers a chance to get their stuff in our hands.
Of course my main interest in these isn't their Owlbear coolness, but they were sculpted by our own Eli over at
I See Lead People
. I say "our own" because if you've been around the same circles that brought you to Mik's Minis, chances are you've run across his site as well, or at least have seen his comments. He's very much an active member of our blogging community and to see his figures made whole here is too cool for words.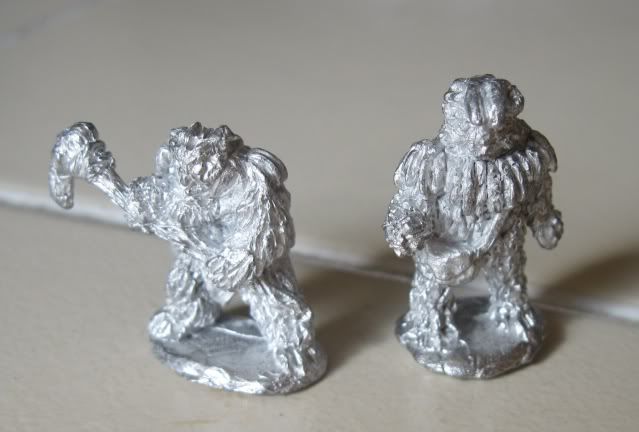 Of course the first two I show you aren't available for sale on the 15mm.co.uk website. Their are unreleased Uhul, but keep your eyes peeled, you never know. The fig on the left is an Uhul Shaman with a large, bird-of-prey skull scythe. The fig on the right is another Uhul in an upright stance with separate spear (see group pic). This one is going to become a sci-fi starport denizen at one point.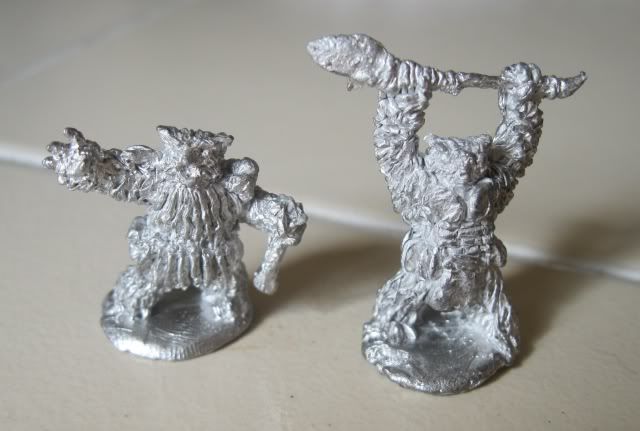 Here you see the Uhul Chief (left) and 'upright spear' Warrior (right). Unfortunately the chief's hand weapon broke off in shipping, so he may become a spellcaster, or perhaps with a pistol addition he could make another cool sci-fi. No, I like the fantasy aspect of these and will keep the majority of them in that genre.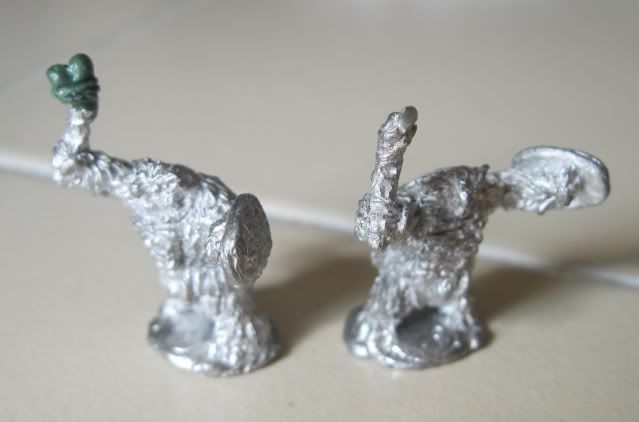 Two identical warriors, or are they? Easy-cheesy green stuff weapon mod turns a spiked club into a bone club. They're also equipped with hide shields. So far the fantasy range consists of three Uhul; the chief, a warrior with hand weapon and shield, and the warrior with the upraised spear. All good choices to start off a small Uhul warband, maybe as antagonists to some
Hyborian age heroes
excellently painted (as usual) by
Spacejacker
. So if you're looking for some cool 15mm fantasy, especially sculpted by a fellow blogger, you don't need to go any further.