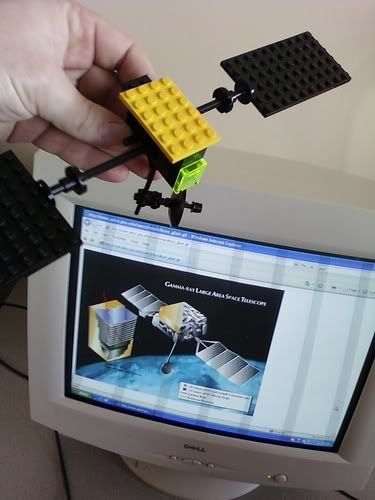 Look! It's the
GLAST
! Sheesh, this photo is so old (look at the monitor in the pic) that they don't even call it the GLAST anymore!
Also,
this is the last LEGO Thursday
,
for real this time
. You know me, I'll
always
have LEGO content here at Mik's Minis, but starting
next
Thursday we will have a new weekly feature. So far it is queued up for, oh, about sixty weeks or so. Until then I hope you have enjoyed all of these LEGO Thursdays, and like I said, there's always going to be LEGO content, that's what started this whole thing off years ago.
Speaking of new content, not only does
next
Thursday start a new, ongoing regular feature, but
tomorrow
will see the rise of
another
new feature...with a new author. So class, we will have a new student tomorrow, they're not from around here but I want all of you to do your best to make them feel welcome!