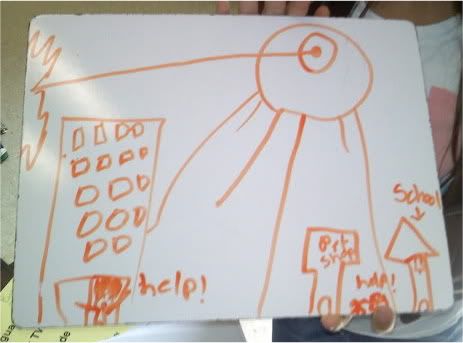 Back before I started up
LEGO Thursdays
there was a short stint I did called "
Mik's Moment of Zen
". Basically I just dug into my phone photo archives and whipped up single-pic posts to share with you all the things I personally felt were pic-worthy throughout my day. Above is a picture one of my students drew for me when I was teaching second grade. They asked what they could draw for me and I had replied something along the lines of, "Something your teacher would think is cool!" Of course I got alien mecha rampaging through a city. Yeah, very cool indeed.
So I'm dusting off all of these
Moment of Zen
posts for Old Stuff Day. I liked was I was attempting with these, and not surprisingly this concept has re-surfaced, and is currently active in the form of my
Instagram/Twitter posts
. I'm obviously a day late with "
Old Stuff Day
", but better late than never, I'll be on time next year. With a reminder.