There's no shortage of Blood Bowl in my neck of the woods, my only lament is that my gaming palette is so full and diverse that there is little time devoted to it unfortunately. I'm still always looking out to add to the collection though and this recent trade was better than I could've hoped for. Right out of the box, err, because of the box, I got...the box. Not that I'm a collector of original packaging or anything, but it was a nice bonus.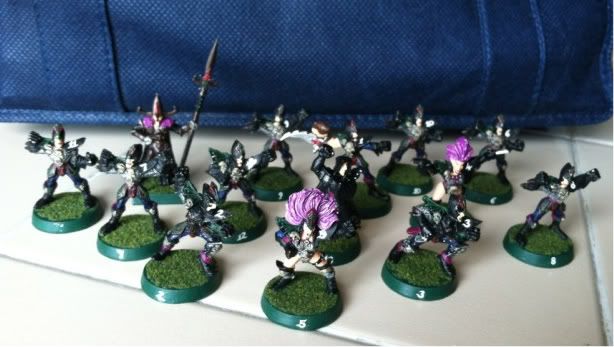 Next was the biggest delight and that figs are painted very well. I had even checked my levels of Simple Green before receiving the package just to make sure I had enough to strip the team. One look at these figs and no, I will not be stripping them, they'll play as is! Sure, there might be a few tweaks here and there, but they are good to go. We've been talking about creating an Elf-only division in our Blood Bowl league,
the Painsphere
. Though I already have painted Wood and High Elf teams, I didn't have a Dark Elf team, and you can never have enough Blood Bowl teams! So look for these sinister players hitting the pitch soon!