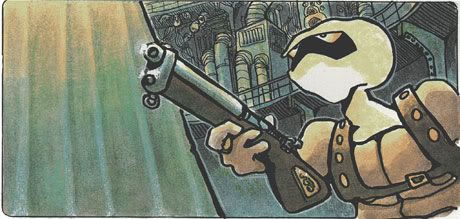 Born in the same fires as Heavy Metal magazine and the animated movie Wizards,
Cobalt 60
hit the post-apocalyptic scene with a unique style all of its own. No stories here of me flipping through the pages as a wee one, I didn't discover this excellent comic until high school. By then however I was pretty well versed in all of the goodness that made this title special.
Cobalt 60 of the same name is the protagonist, a hooded hero avenging his parents death at the hands of the evil Strontium 90. He's got a great arsenal of weapons and the know-how to put them to use against mutants, raiders, aliens, and more. Cobalt 60 is a great story, but where it shines for me is the style and the artwork itself, simply amazing.