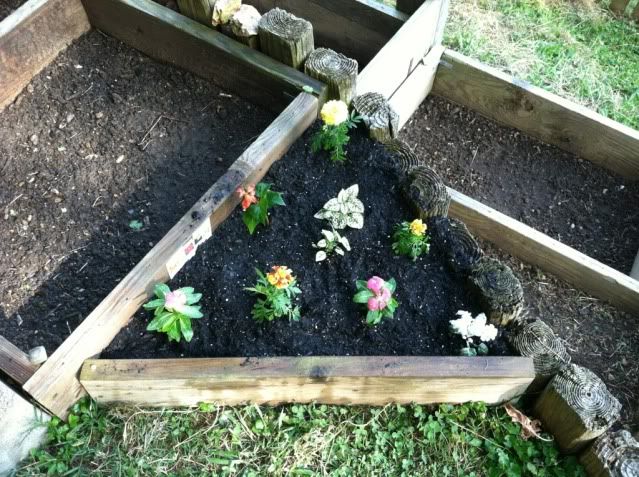 Honestly, after looking back at my
garden post-apoc post
not too long ago I gotta say I'm slightly embarrassed. I knew I had let things go, but that was beyond the usual negligence. So I took this past weekend to make up for it and gave the garden a thorough de-weeding, cleaning, and maintenance. It's detritus free and ready for planting. Consider this a "before" post.
I built the above triangular box thinking I would put more veggies in it this year, however after the firstborn and I planted the mailbox and driveway flower gardens, we still had a lot leftover. This is what I get for letting her pick the flowers. We took the leftovers and put them in this newly built garden box, admittedly they're a nice addition.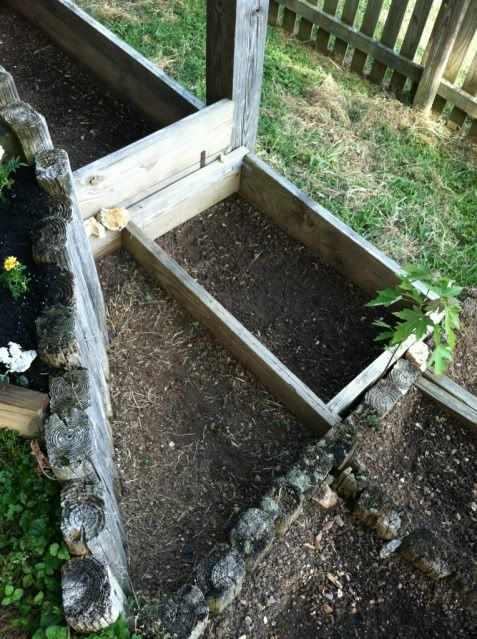 It's the planning stages, what to plant, what do we eat the most of, what do we buy at the store the most that we could easily just grow ourselves? All of those questions go into garden planning. One thing we do use a lot of are onions, and this garden's just not equipped for that endeavor, plus it's not the right time of year and they're cheap enough as is that it's not an issue.
The larger box here is going to be for bell peppers, probably a red and a yellow. You can see the lone Maple tree here as well, I didn't have the heart to remove it, but I may have to. It's roots are too deep in between boxes and I don't think I can remove it in one piece for a transplant. If I leave it, it will only end up as a garden-wrecker.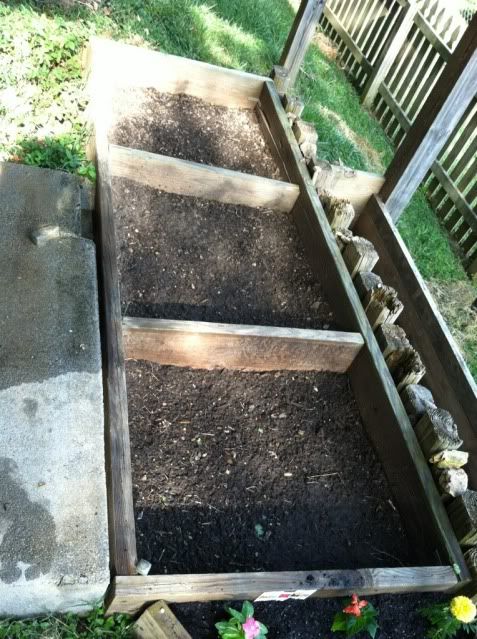 Top beds will be for eggplant, zucchini, and some hot peppers like cayenne and habañero. Zucchini is a new one this year and will hopefully fare better than cucumbers. Plus it's something we're always grilling anyway so it'd nice not to have to buy them. They do take up a lot of room unfortunately, but should be worth it.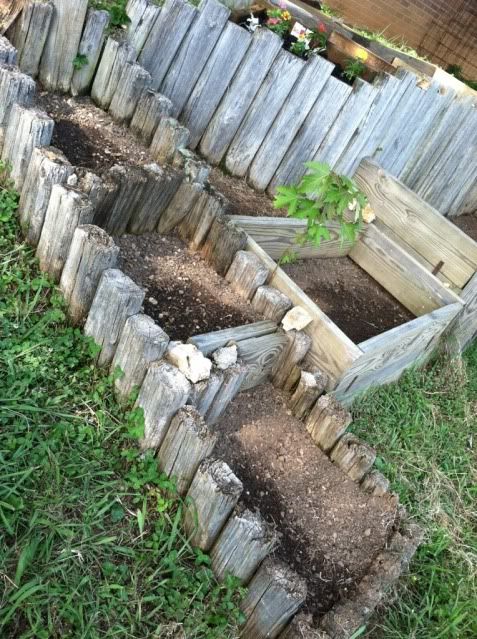 These "steps" are a throwback of the previous owners and there's only half of them left after I took out the others. Which was a major pain. These get plenty of sun and have yet to disappoint in the area of jalapeño and banana peppers so I'm not going to change it now.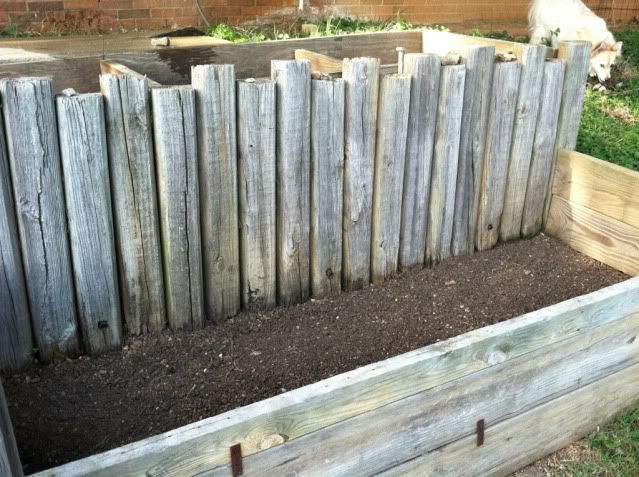 Last we end with the powerhouse of the garden, the 'mater beds. Just enough room for three solid plants and since I will NOT be planting Indian Super-gourds this year hopefully the tomatoes will do great. I know I'll be doing one cage of Romas, just for salsa and sauce application. As for the other two, I don't know yet, they'll probably be identical and something that will work sliced and on top of whatever I happen to pulling off the grill. I would make a "garden variety" joke but I don't even know if you've made it this far, haha. So there you have it, garden prep for the coming year. I hope to have some veggies in the ground by the weekend. Enjoy!
EDIT: Heh, I just noticed that my dog, Lily, performed a flawless photo-bomb above!