Obviously inspired to paint up some
Infinity
models due to the strong buzz it has generated locally I also got a chance to end my horrendous half year painting slump. We've yet to play our first game ironically, but that didn't stop me to dust off the brushes, the paint pots, the lamps...well pretty much everything was dusty. When it came down to picking a faction I went with the alien menace,
the Combined Army
. As their name suggests, they are a conglomerate of many different alien races, all with the singular goal of haranguing mankind.
That's not why I picked them, I picked them based on models alone, as they have a large variety of different aliens, and they just look 'cool', plain and simple. I haven't painted in quite a while so I was admittedly rusty, and these pics came out a tad blurry, but nonetheless it was an invigorating restart at the hobby desk. To start out with Infinity I looked no further than the
starter
pack, six great models ready to hit the table. Perfect for learning with the
quickstart rules
. Enough of me, on with the models.
Morat Vanguard Infantry
These guys are the backbone of the Combined Army, and one of the main reasons I picked the faction overall. Their crazy hair, their beards, big guns, and decent torso armor all lend a very familiar but decidedly alien look.
I usually will paint a color scheme in anything
but
what the box shows the models as. I'm not a big fan of studio paint schemes, I like making my own. However, in the case here, I did decide to go with the bluish-white hair and the red skin.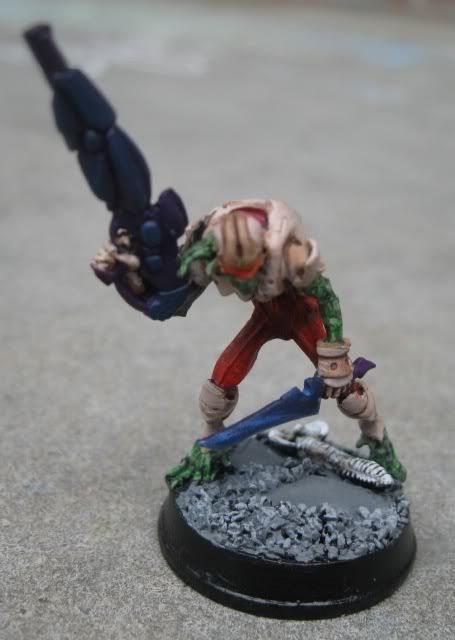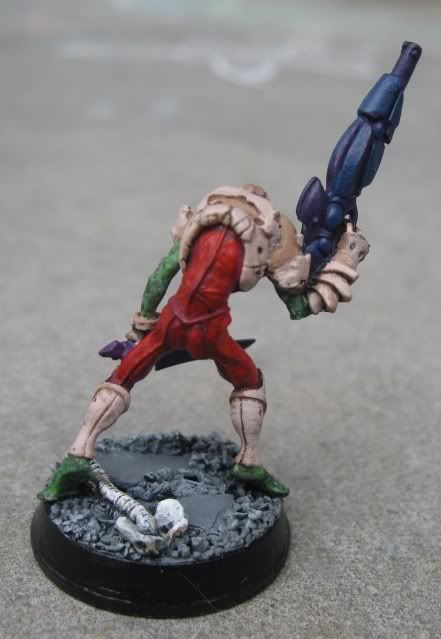 Malignos
Not having played any Infinity at all, I actually can't tell you what these models do. Not having the official rulebook with all the army fluff in it, I can't actually tell you who these models are either! The Malignos, I believe, are masters of infiltration and stealth. Not much in a stand-up fight they use their thermo-optic camouflage to get in close and open up with their combi-rifles.
Speaking of rifles I decided to do all of the Combined Army weapons in a purple and blue color scheme. Normally not a regular choice to paint weapons in, it seemed suitably alien and with the tan/red color schemes was a nice contrast without being too garish.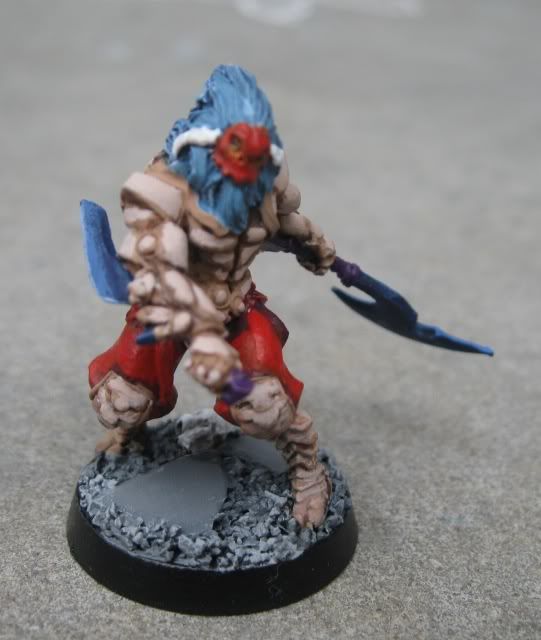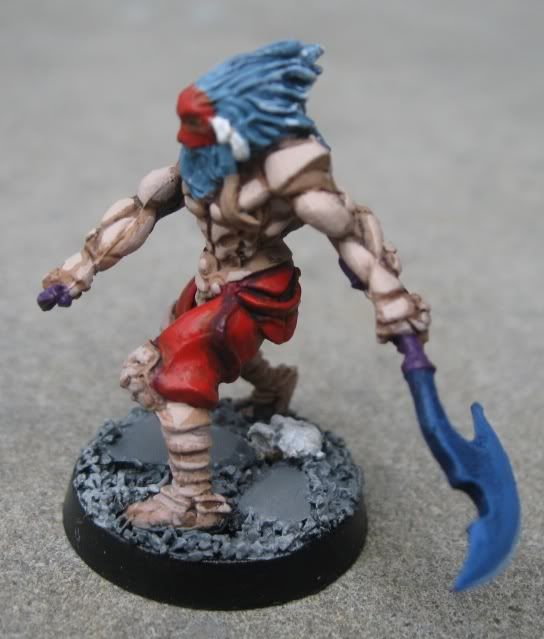 Daturazi Witch Soldier
I have no idea what this guy does, but he has one of the coolest titles in the whole army. He looks the same, more or less, as the Morat but his armor is slightly different and he is dual-wielding an axe and a short sword instead of sporting a rifle. So I'm guessing he'll be good in close combat.
I think the 'witch' part of his name might be human superstition as I can't imagine any psionic or "magic" powers being associated with him. He did have these ribbons coming off of his ear-horn things, but I didn't like those at all and tried to hide them in the paintjob.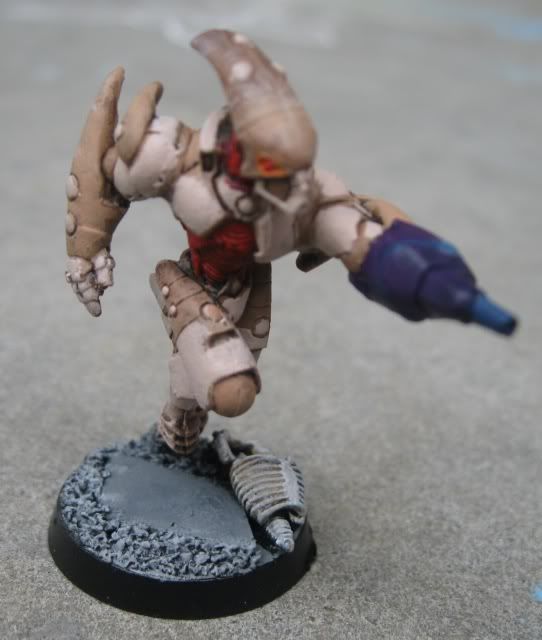 Charontid
Rounding out the starter box is the heavy hitter of the bunch. I was never crazy about this model, mainly because they had him painted in yellows, purple, and other zany pastel colorfulness. The figure is in a pretty dynamic pose too, but in the end I was happy with the somewhat muted color scheme I gave him and it still ties him in with all of the other models. I never knew if this was a robot, or A.I., or what. No, it's just a guy in heavy power armor with a big, ole gun arm.
For the bases, on the Charontid and the rest, I tried to go for a more urban rubble feel. Not unlike Spacejacker's bases on these
freaky mutant-hot dog beasts
. I just took my clippers and cut chunks out of an old CD and glued those to the bases first, then added ballast around the chunks, hoping to get it to look like broken concrete. I also added some base decoration courtesy of
Secret Weapon miniatures
and their excellent conversion bits.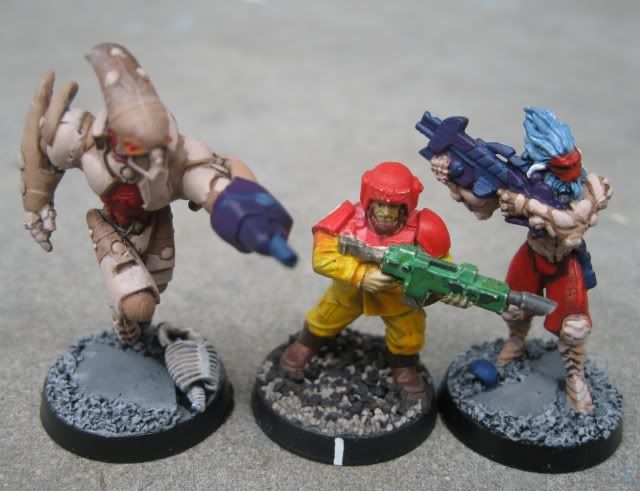 I should also mention that I never realized just how large these figures were until I saw them in context. Shown here for scale is a GW Cadian Trooper. As you can see the Morat is easily taller than the human and the Charontid towers well above him. The Infinity range isn't all over-scaled though, most of their human troopers are about the same size as the Cadian here. The night my buddy Ray and I glued these together his
Ariadna
were about the same size as the Cadian. It's kind of nice to see such a variety in size among the same scale.
That's all I've got for now. If you've been following me on Instagram (cygnus46) or just paying attention to the photo reel over on the right, you'll have seen tons of WIP images of these guys along the way. I will probably be showing my WIPs like this along the way in this manner as it frees up more space here to post the final product. Well, it's been a while, enjoy!