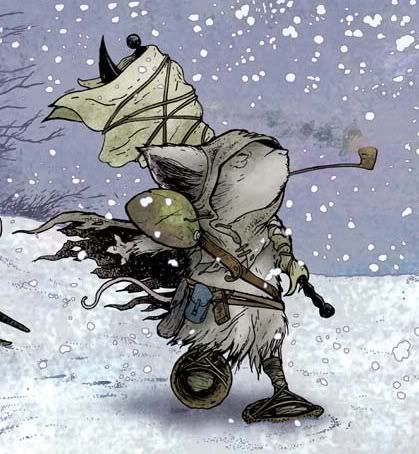 I was quite taken with the Mouse Guard comic when it came out. I devoured what issues there were and moved on to the roleplaying game, and although our campaign was short lived in the Mouse Guard world, the RPG book is still a fantastic sourcebook.
Of all the great characters in Mouse Guard it was Celanawe I liked most. Also known as
the Black Axe
, Celanawe was a Guard hero of days long past. Most thought he was dead, a legend of a bygone time, but when the Guard found themselves in dire straits, he appeared from nowhere. He's the epitome of the grizzled veteran, and serves as a great mentor to the next generation of Guard in his true twilight years. The young'uns right here in Thor's Day Heroes will certainly benefit from his experience, welcome aboard Black Axe.