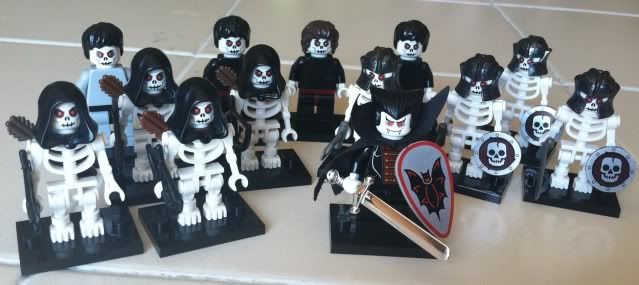 What's better than a bonus undead tomb kings army for Battlesworn? A bonus undead 'children of the night' army for Battlesworn! Yes, here's bonus army number two; Undead of the Knight. Looking at the photo above, a pretty cool (if a tad pale) looking army.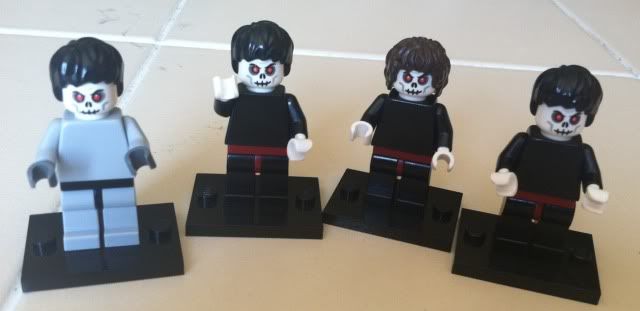 Look, it's the undead Beatles! I know what you're thinking, four troops so these must be the compulsory four fighter choices. Nope, after five armies made we're still unlocking new troop types. These four zombies are the rabble troop type; rabble fight just as hard as fighters, but their weakness is they die after taking only one wound. On the other hand, rabble only take up half a slot, so you can take twice as many, now I see why they're labeled as zombies in the sample list.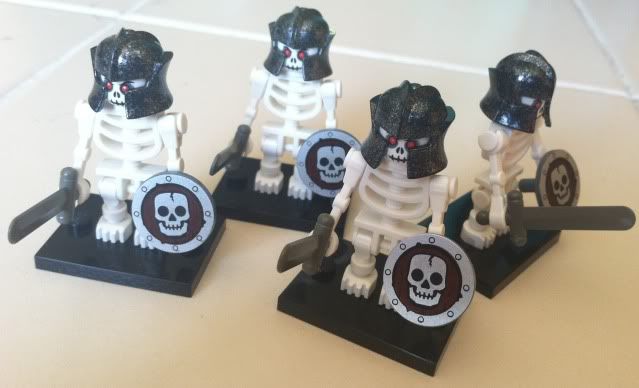 And here's our four compulsory fighters; skeleton warriors, always a classic. There's really not a whole lot to say about these guys, they're tireless, they're relentless, they're sword-wielding skeletons.
What's cooler than skeleton warriors? Skeleton archers! Fighters are one thing, but shooters? Archery requires all kinds of things you'd not expect from a skeleton; dexterity, long ranged eyesight, finesse, and more. In a lot of ways skeleton archers are creepy. Here's four of them.
No undead horde is worth their weight in salt without a suitably good leader to command them. The force list uses another combo class with the ancient vampire here; the tank / sorcerer. He's going to be tough to take down, and gets to wield a whopping five spells while he's at it. Plus, though all I added was a sword and shield, he looks pretty awesome at the head of the army.
Only one more of the bonus armies to go, and the next one comes across quite sneaky, and quite pointy. Until then, enjoy!