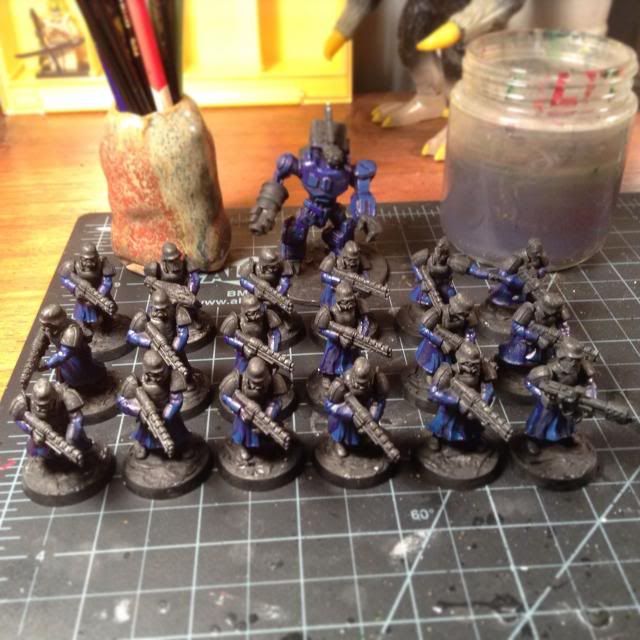 It seems a lot of my posts have "It's been a while..." in the introduction, well whoa be to me to break tradition. Continuing to plod along with these Wargames Factory troopers. They're actually a lot closer than the above pic might indicate. It's a race to keep the blog updated and the bench moving forward. Above you can see I've got the coats done, layering up dark blues with a little stark lighter blue contrast for highlights.
All those little GW bits went to great effect on these models, which would've been a bit plain looking without them. I kept the palette simple since I had eighteen individual kits to paint up, so I alternated between the same green and brown.
The gas masks and lenses were begging for a bright, almost glowing green, so I obliged. The masks themselves were a ruddy olive drab, with a green wash. The lenses were a bit more labor intensive as I worked up three shades of green to bright, leaving it a bit 'sloppy' around the edges for an ever-so-slight object source lighting effect.
Finally, what's a trooper without his gun? I painted their primary weapons good ole M41A Pulse Rifle green, threw in a wash, then did a little highlighting. Again, eighteen rifles meant keeping it quick and easy. The ventilated shroud I went with a similar bright green as I did the mask lenses. I tried something else, but ended up not liking it whatsoever and had to repaint the barrels from scratch. Meh, live and learn, I really like how they ended up so it worked in the end. Next up...bases!