Yes, it's true, here at Mik's Minis I do requests! The only thing is, I never actually had a request, but thanks to a poignant observation by hetero-lifemate Osborn, I thought I'd follow up to yesterday's game room pics. Looking back through the post, it does indeed look pristine, but that's not always the case, in fact, since it is a
game
room, that's rarely the case! If you look back through my
battle reports
you'll find the table full of terrain and armies (most of the reports are at my house, but not all), but here's a look at the table in, err, transitional periods.
Here's Squad
Terminus
in the making with some bits laid out.
Here's some hot-wire and insulation board terrain making. It never really took off, I just didn't like the lightweight feel of it. If you look on the right though you can see the beginning pillars of my black basalt
towers
, which turned out not too shabby.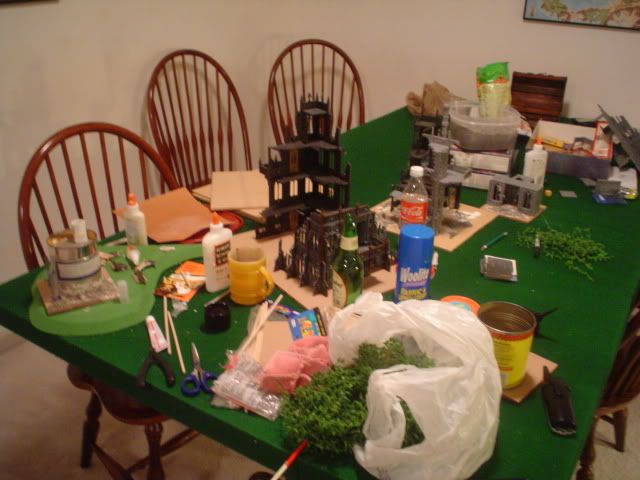 More terrain making in progress.
This is the typical mess when I paint something. As you can see I use mostly craft paints. I've got both phones nearby, and the notebook there is to take painting notes, so if I have to go back later and repeat a certain look, I can. It looks like I was finishing up
Lady Talon
and also putting the finishing touches on my
magic mushrooms
.
Most of the pics, like the above sprue-tacular shot of putting together some GW
Dwarves
have shown up here before, but now they're all in one place. Here's a
great one
that I left out, but shows just how crammed full of 'junk' an eight foot table can get.