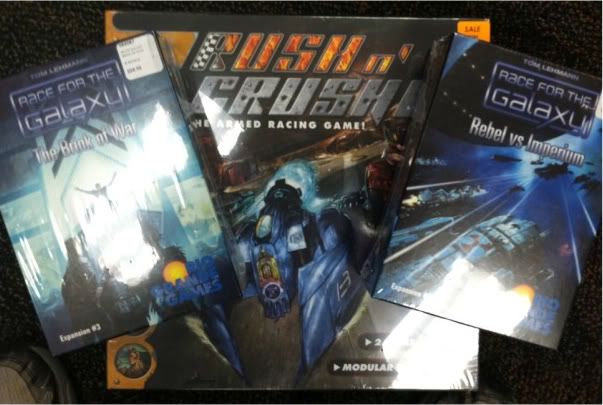 So one of our local game shops is closing down, mind you it's not the
awesome one
I spoke of before. It's also not the
pretty good one
that is close enough to ride my bike to. In fact, the store closing down is the one
that price gouged Space Hulk
long ago, so I think there's a valuable lesson to be learned here. But I digress.
So they're going out of business and selling off the store at discounted prices. Not having a whole lot of spending cash on hand, it was still too good of a deal to pass up on. Even though I vowed I would "would never spend another penny" with them, it was their swan song so I thought I'd help them along their way out the door.
One of my favorite games has got to be
Race for the Galaxy
, and though I've never won a game, it's still a fantastic, amazing game. Seriously, it's one of my favorite games. Anyway, I've had the first expansion (Gathering Storm) for a while but thanks to the sale I now have expansions #2 and #3, Rebel vs. Imperium and Brink of War. I'm pretty happy with these additions, and they add whole other levels to the game, kind of like adding Cities and Knights to your basic Settlers of Catan changes the entire game's scope.
The other item I picked up was on
super
sale. It's called
Rush n' Crush
, and from what I've heard of this game in the past, it's not half bad, but I haven't heard much. I'd love to hear what you might know about it, the price was just too good to pass up really, six bucks unopened. Apparently the game is a blast, but the components are a bit lacking. Having peeked inside, yeah, those are pretty cheap (and weird looking) race cars. The map boards look good though.
So there you have it, I've been pretty frugal as of late so it's not often I get to add a few pounds of loot to the pile. Enjoy!