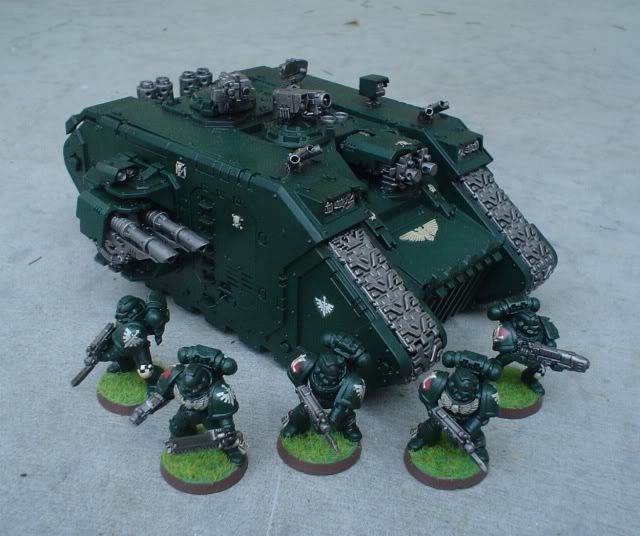 I recently picked up some more Dark Angels in a trade with my friend Chrispy. He was going to start up a DA chapter, but all of that dark green kind of turned him off. It worked out for both of us since I got his leftovers and he got some cool stuff in return.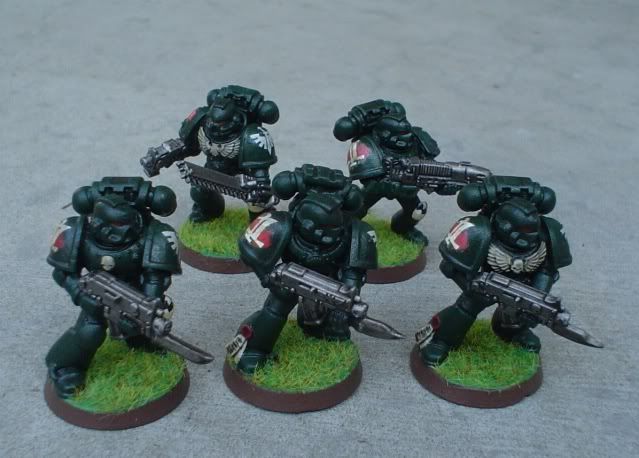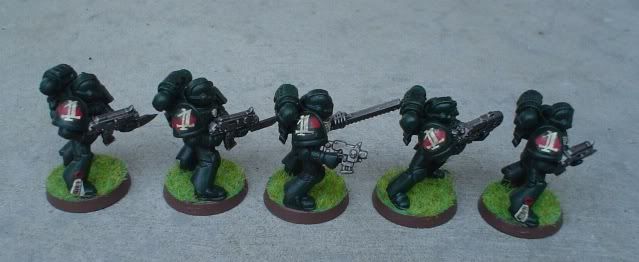 The good news is that these guys were already painted. The even better news is that these guys were already painted
well
, something you don't always get in a trade. It some very minor refurbishing to tweak these troopers and get them in line with the rest of my
Dark Angels army
. Another thing I really liked about these troopers were their bayonets.
They already had their chapter icon decals on their left shoulder pads, so all I had to do was add a tactical symbol and squad number on the right shoulder pads. This is always tricky to do since you're layering two waterslide transfers on top of one another. I only screwed up one, and was too lazy to fix it. I used
Microsol
as usual, and everything smoothed out just fine. After the decals were properly set, I streaked them with a little Devlan Mud wash.
Their bases were green with flock/static grass on them. I didn't want to scrape off all the grass to stick my
usual dirt scheme
on the bases, but I did paint over the outer edged ring of the base so at least that would match the
rest of the army
itself.
Lastly, since these boyos were now inducted into my army, they needed 4th company markings. The 4th company has one of the most annoying badges out of all the Dark Angels chapter, a lower half circle of bone white, an upper half circle of pure white, then a black and white checker pattern on the top half of the circle. For the figs that had the full leg greaves without knee pads, I just applied a skull icon decal. After drilling the bolter barrels, I was done!
Also in the trade was the well painted Land Raider